Last week I showed you how to achieve a brushed metal look using a Scotch Brite pad and a unplated pickup cover. Next, lets see how to hand polish a raw unplated pickup cover and then turn it into an aged pickup cover with faux string lines.
First, you will need a metal polishing compound and some old rags.  Any brand metal polishing compound will work fine.  You could also use the "Miracle Cloth" which is metal polish impregnated cloth. This is what I used. It works great for polishing frets too. One warning about metal polish….don't use to polish any gold plating.  It will strip the gold plating off very fast!
PLEASE READ:  We recommend you wear protective leather gloves while working with unplated pickup covers. The bottom edge can be very sharp and can easily cut your finger. Filing the bottom edge smooth before you start work is also an option.
Apply a small amount of metal polish to the rag and rub it into the surface of the pickup cover. Use a circular motions until you have covered the entire surface. Periodically, wipe off the polishing compound to see how you are progressing. If you are happy with the result, then start buffing until you remove all of the polish and the pickup cover is bright and shiny. Use a new cloth, or a different area of the cloth when doing this.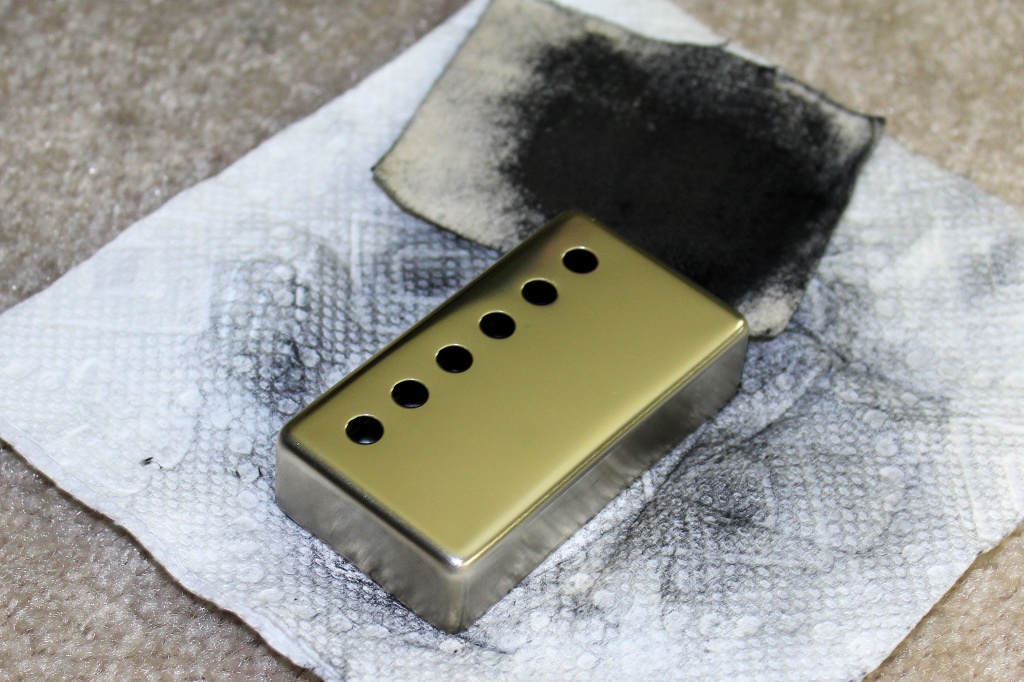 Now that we have a nice hand polished pickup cover, lets add an aged look with faux string lines. You will need some painter's masking tape cut into very thin 1/32″ strips and some very fine grit Micro Mesh soft touch sanding pads.  The three highest grits(6000, 8000, and 12000) will work best since you only want very light marks.
1.  Lay out the thin strips of painters tapes over the screw holes to simulate the string location and then trim the extra tape.   Apply some pressure on the tape to help keep it from come off during sanding.
2,  Sand lightly with Micro Mesh soft touch sanding pad.   It will take some experimenting to get the right look.   Try pressing the sanding pad into each string line to help emphasize the string line.
3.  This is how I like to soften the sanding marks to make them look more natural. In this image, I'm using the carpet on my bench to blend some of the sanding marks.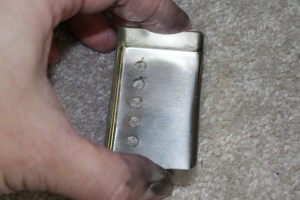 4.  OK…all done.  Not my best work but you get the idea.   The nice thing about working with unplated pickup covers is you can easily re-polish the cover and start over if you don't like the results!
If you have any questions you can send us an email at support.