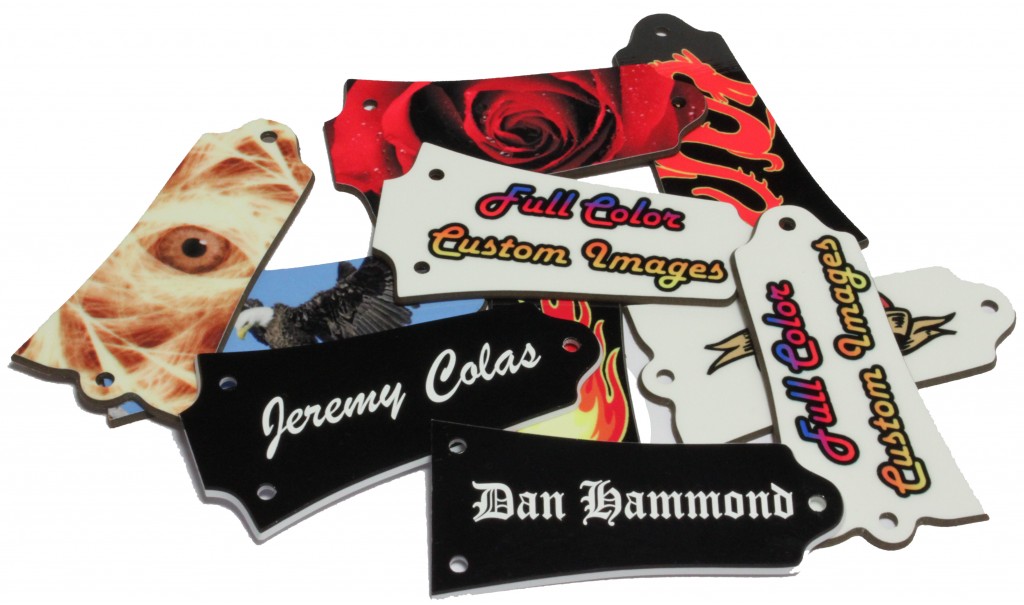 In early December 2012, we were contacted by the Gibson Corp. about our use of the Gibson bell design for the truss rod covers that were selling.  They asked us to stop producing the truss rod covers and that the bell design was protected by their trademark. We were unaware that the shape of the truss rod cover was protected by a registered trademark.  The protected trademark included the standard Gibson bell shape used on almost all Gibson guitars and the Epiphone truss rod cover with the similar design.
Gibson has no problem with us engraving their own products.  The only problem is that Gibson only sells the Gibson bell shaped truss rod cover(PRTR-010) and none of the Epiphone truss rod covers.  With some help from Gibson, we came up with the above design changes for truss rod covers.   Customers who order a custom engraved Gibson truss rod cover will get a genuine Gibson product engraved by us.  For the full color Gibson and Epiphone truss rod covers we will be using our new truss design.  They still have the same mounting hole locations and share the same bottom edge as the original.  The sides are a little narrower and the top has more pronounced shoulders.
Overall the new design is a good compromise.  This should keep most of our Gibson and Epiphone customers happy.  Because these are our own design, we will allow others to use these on their own guitar builds without worrying about violating any trademark.  If you have any questions please contact us at support.