Introduction
This article will help you pick the correct knob for your guitar.  Choosing the correct knob for your guitar isn't difficult when you have the right information.  We will discuss some of the different styles, control shaft types, and whether you need recessed or non-recessed knobs.   Pictures will be included with each explanation to help you see the differences.
Knob styles
There are 3 common styles of knobs; bell, speed, and domed.

First, are the very popular bell knobs.  These can also be referred to as hat, bell hat, UFO or hut knobs. They are typically found on LP and strat guitars. On Les Paul® guitars, they are typically clear knobs with the color and numbers painted underneath.  The most common colors are gold and black.  Amber knobs use translucent amber plastic and are painted gold on the bottom.  Strat bell knobs are solid colors with the numbers and volume/tone embossed on the outside.

Speed knobs, also called barrel knobs, get their name from their beefy, large diameter shape that allows for easy and quick adjustment of the controls.  The diameter is about the same as the bottom skirt of a bell knob except they don't taper inwards. Typically, construction is clear plastic with the color and numbers painted underneath.  When looking at the amber version of these knobs, it can appears darker than the bell version because the plastic is thicker, which makes the numbers harder to read.

Finally, the domed knobs.  These are not always domed and sometimes have flat tops.   They are can be constructed of metal or plastic.  The sides usually have a knurled texture that can range from fine to coarse.  This appears on a lot of Telecaster guitars but has become very popular on super strats (ie. Ibanez®, Charvel®, Jackson®, etc.).  A domed knob will give the guitar a sleek appearance.
Control shaft types

When choosing a knob for your guitar, it's not just about picking a style that you like.  It's about whether it will fit your guitar or bass properly. The shaft on your control comes in two common styles.  Either a splined (sometimes called knurled) split shaft or a solid shaft.
Split shaft knobs come in two versions, both are 6mm in diameter and only differ in the number of splines.  Either a coarse spline that is usually found on import potentiometers (often abbreviated as "pots") or fine spline found on US CTS pots.   Almost all press-on knobs that fit coarse 18-spline pot shafts won't fit fine 24-spline shafts, and vice versa. NEVER pinch the control shaft with pliers to make a knob fit.  This can cause the split shaft to break.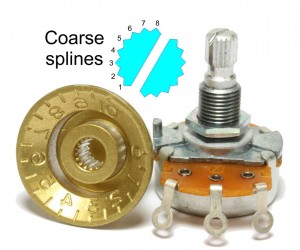 If you count the splines on a coarse knob you will have a total of 18 splines.  If you count them on the pot, there are 8 on each side of the split (16 total).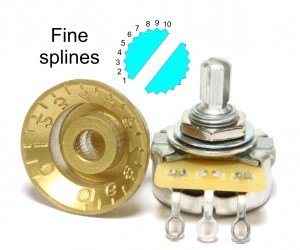 Fine spline knobs have 24 splines, and the pot has 10 on each side of the split (20 total).   It is easier to count the splines on the control than on the knob.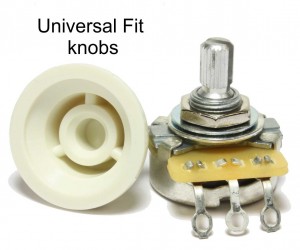 Some strat knobs are universal fit and will fit both coarse and fine spline pots.  These knobs don't have splines and are made with just the right diameter that the splines on the pot will make their own path.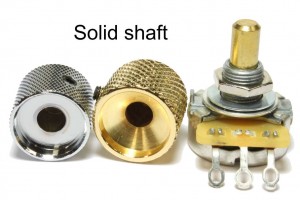 Most dome knobs use a set screw to secure the knob to a solid shaft.  These are available to fit two shaft diameters; 6mm or a 1/4″.
The 6mm solid shaft knob will fit coarse spline, fine spline and a 6mm solid shaft. 6mm is a common size for import guitars.  When installing a 6mm solid shaft knob on a split shaft pot you want to tighten the set screw in line with the split.  Tightening the set screw perpendicular to the split will compress the shaft and cause the knob to come loose.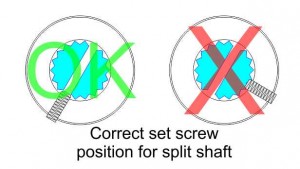 1/4″ will fit only solid shaft pots normally found on US/Mexican Fender Telecaster® guitars.  Fitting a 1/4″ shaft domed knob on a split shaft control o the smaller 6mm shaft will cause your knob to spin off center.
Recessed or Non-recesses knobs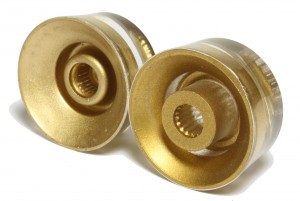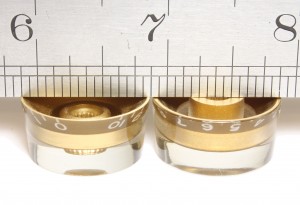 Another consideration when choosing a knob for a Gibson Les Paul® is whether you want vintage style non-recessed knob.   Guitars fitted with this style of knobs will look like the knobs are not pressed on all the way.  They can sit anywhere between 1/8″ to 1/4″ above the guitar body.  These are found on a lot of vintage Gibson guitars and also their historic line of guitars.   On some guitars the knob can look like it is sitting way too high and will need the control lowered to make it look better.   This can be difficult to do on some guitars(ie. Gibson guitars with the PCB).  Here are some examples on a Gibson Historic and a 2010 Gibson Traditional with non-recessed knobs installed.
We hope you found the information provided here useful.  You will find most of the different styles of knobs available on our website.  If you have question please leave a comment below or send us an email at support.