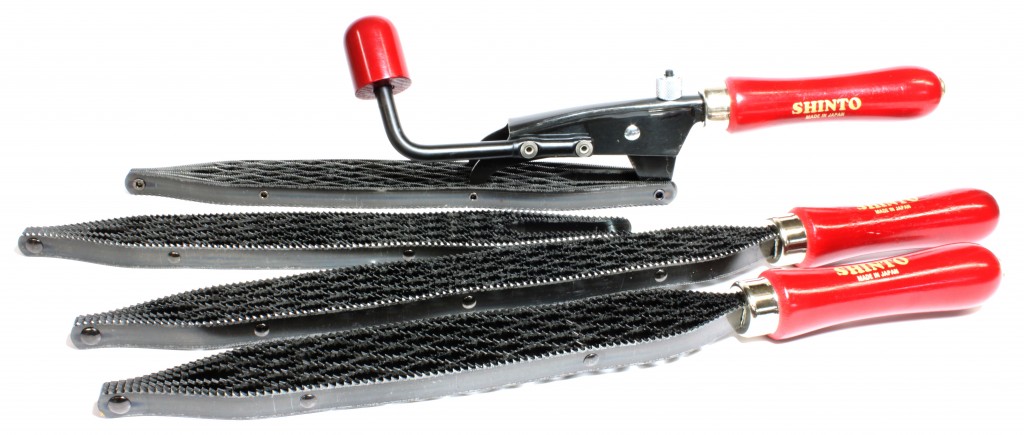 Now available through our website is the Shinto Saw Rasp.  These rasps are made from 10 pieces of double-sided riveted saw blades and will make quick work of your carving needs.  The combination of the saw tooth design and the large open areas prevent clogging that happens with normal rasps.  Use the coarse side for quick shaping and very rapid material removal.  Use the fine side for the finishing pass. Guitar builders will love using these to shape a guitar neck or to work a beveled edge on the guitar bodies.
We also have available the Shinto planer style saw rasps that comes with a removable blade. The two handles are raised above the work surface to allow you to work on larger surface areas without your hands getting in the way.  The blade is easily removed to allow access to both a coarse and fine sides.  By removing the handle you can also use the rasp freestyle.  Wearing gloves is recommended since the teeth are very sharp.
After looking around the shop for something to test this new toy on I found a nice mahogany neck blank.  Boy does this rasp work great!  It very quickly removed the material on the coarse side.  Flipping the rasp over, I'm using the 9″ version, and using the fine side works great to fine tune the final neck shape.  It left a nice finish that won't take much work with the sandpaper.  I also found an old leftover guitar body that never made it to completion.  Putting a forearm contour edge on the front of a guitar body was quick and very easy.  Since it's slightly over 1″ wide and flat, it will work great to make a nice chamfered edge.
I really like these rasps and it's easily my favorite new tool.  Can't wait to use it on a future guitar build.  If there is one complaint, it would be that they don't offer a half round version.  Not sure if it's possible to make one but it would be nice.
.